TGIF!
Here's to wishing you all a Happy Easter Weekend with lots of Naughty fun, of course!
Here's Some Easter Humor to Get You Through the Day!
[From imgfave.com via Pinterest]
[Easter Humor via Pinterest]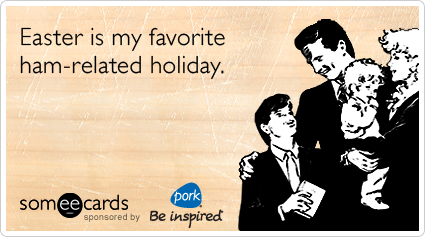 Easter Humor – SomeeCards.com]
…And Here Are Some Helpful Pervy Posts To Take You Into the Weekend!
xO ♥
Join Our Mailing List & Get 10% Off + 5% Off w/ Our Current Flash Weekender Special!

To get the deal, check out the link below and look on the left hand side of our Masturgasm site where it says "Get 10% Off." Click on that button and a screen will pop up, prompting you to enter your email. Once you enter your email, the screen will update to show your special coupon code to get 10% Off.
Spend $40 or more & Get an Extra 5% Off on top of the 10% Off for a Total of 15% Off!
Join Us – here!
Shop All Items on Masturgasm – here.
Also, be sure to Follow Us on Twitter &  Like Us on Facebook for the latest flash deals, specials, discounts and new product releases!
Yours Truly,
Kinky Kate
xO
I LOVE this kit. The Kama Sutra Weekender Kit is a really great kit that's perfect for traveling and pleasure alike. My boyfriend lives about an hour away so having things be travel convenient is SO important to me when I spend my weekend at his place. I love the flavor Strawberry Dreams as I am a strawberry lover and have a major sweet tooth! Not only that, but everything in this kit is potently flavored so I don't feel like I'm getting screwed by their smaller sized containers as the flavor is just as delicious and strong as their larger counterparts ( Trust me, I would know. I recently purchased some larger sized Kama Sutra items at Romance Attack Riverside after loving this kit so much!).
My boyfriend and I had so much fun with this little kit and surprisingly did not use all of their contents. This kit is a different flavor than the original version of Kama Sutra's Original Weekender Kit which features more earthy scents and minty flavors. I also like the Original Kit ( YES, I've tried it all!), but I find it's more appealing to me in the winter time as opposed to summer when I really LOVED the Strawberry Dreams Edition. Mint & Clove just aren't good to me in the summertime. I don't know what it is.
Anyway, aside from the flavors, they are basically the same kit although the Original version features a few different items that involve oils & bathing gels and the like while the Strawberry Dreams version offers more of just the love oils & delicious honey dust.
I love these Weekender Kits for a few Essential Reasons:

Travel sized Kit fits perfectly into my overnight bag for fun weekend getaways  or weekends in (when I want to be selfish! 😉 and pleasure only ME! Yeah, I said it!)


The travel sized Kama Sutra items are fun, delicious and potent despite their small size

Fun Items that are perfectly sized to try if you don't want to buy all of them in their larger counterparts

If you're a thrifty bargainista chick like me!

Here's a Breakdown of What Each of The Kits Include.
Kama Sutra Original Weekender Kit Includes:
Original Oil of Love

Original Stimulating Pleasure Balm

Original Honey Dust and Feather Applicator

Original Mint Tree Bathing Gel

Original Wild Clove Bathing Gel
Kama Sutra Weekender Kit Strawberry Dreams Edition:
Strawberry Dreams Oil of Love

Strawberry Dreams Stimulating Pleasure Balm

Strawberry Dreams Honey Dust and Feather Applicator

Sweet Almond Massage Oil

Love Liquid Sensual Lubricant
The Kama Sutra Weekender Kit is the perfect choice for your weekend fun alone or with a partner, whichever you choose so choose wisely or choose both like me! 😉
Enjoy your weekend!
Check out Some Great Sex Positions That Burn MAXIMUM AMOUNT of Calories!